It is Monday. Spring Break officially ended for the
Nenonen boys
this AM. Back to the grind for all.
While my brain catches up to speed from a long week of work and fun, I figured I would touch upon several random thoughts that have been circling my head over the past few days. Please excuse the somewhat directionless nature of these bits-and-pieces...
WEATHER:
I can't ignore the obvious- let's talk about it. Just bizarre. No better way to sum it up than with this...
And this...
I know, the juxtaposition is something to behold. It appears that Old Man Winter has waged an epic battle against Spring and refuses to go down without a fight?!
As I have said before, welcome to St. Louis!
Over the weekend, a current client of mine expressed frustration that I have heard NUMEROUS times over the years. He had started to use Realtor.com to search local properties between my daily emails with listings. He pointed out a few listings to me that my searches had appeared to miss, only to
discover that those listings were already sold.
This happens a lot, unfortunately.
Sadly, sites like Realtor.com, Zillow, and Trulia, while great public resources for some things... tend to have a huge amount of lag time. They are national websites with THOUSANDS of MLS systems and Realtors feeding into them. Often times, the lag time on sites like this is up to TWO weeks! In a business where time is of the essence, these search engine really fall short. They just do.
Heed my advice St. Louis Home Buyers- avoid sites like Realtor.com for current property searches. Trust me, it will save you much time and headache.
The best way to access the most recent listings and price reductions is through a licensed Realtor. Period. We have access to EVERYTHING. That being said, if in the mood to browse on your own, stick to the search engines of LOCAL brokers and agents. The Multiple Listing System Database (MLS) that agents use here in St. Louis is dedicated to keeping our clients up to speed by supplying even agents with real time search engines. Want to search like an agent? You can now do it HERE on my website! Very exciting.
CARRIE PSA: Basement security
The empty space in this furnace, friends...
... is where the copper-lined a-coil of this unit used to be. My Buyer closes on this listing in 2 weeks. Last week, this vacant property (along with numerous others on the street) was broken into and stripped of all of the copper. Pipes and everything.
Needless to say, it has been a total mess. Particularly for the poor Seller, who is quickly rushing to get all of the repairs done prior to close to the tune of $3,500. Ouch.
The economy is ugly. Period. With vacant properties and precious metal prices at an all time high while employment is at an all-time low... this phenomena is no shock to those of us in the industry. A recipe for disaster.
That being said, many of these break-ins (this listing included) can be easily avoided. It comes down to reducing possible points of entry into a property. Thieves concentrate on properties where they can get in and out quickly. If one foresees entry to a particular property as being problematic, he will skip it and move on to the next. Period.
Obviously, deadbolts, motion lights, screen doors, and alarm systems are always a good idea. Often times, however, the security issues can be solved more simply. These safety tips are applicable to EVERY home owner, copper pipes or not:
If your basement door (or any door in your house with an inconspicuous or not well-lit entry location) looks similar to this...
... consider replacing it with a solid core fire-rated door with no windows or thicker thermal rated windows. For less than $200, you will not only vastly improve security, but energy efficiency as well. The door at my Buyer's lisitngs was almost identical to this one.
If your original basement windows are single-paned and look similar to this...
I HIGHLY recommend full replacement or installing security bars. NOTE: this was the point of entry on my Buyer's listing.
My favorite solution to this problem is this...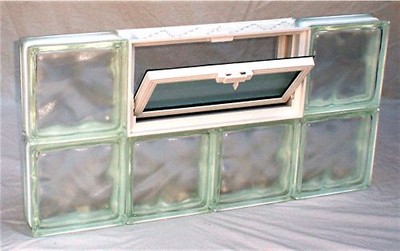 I found this example for a mere $80.00 on eBay. Glass blocked vented windows provide the air and light that you want, along with the security that you need.
Small cost and hassle to pay for security and safety. Well worth it!
Wow, well this blog entry was almost as random and sporadic as our recent weather?! Busy week ahead and fingers crossed for warmer weather. Alrighty then, back to work... =)